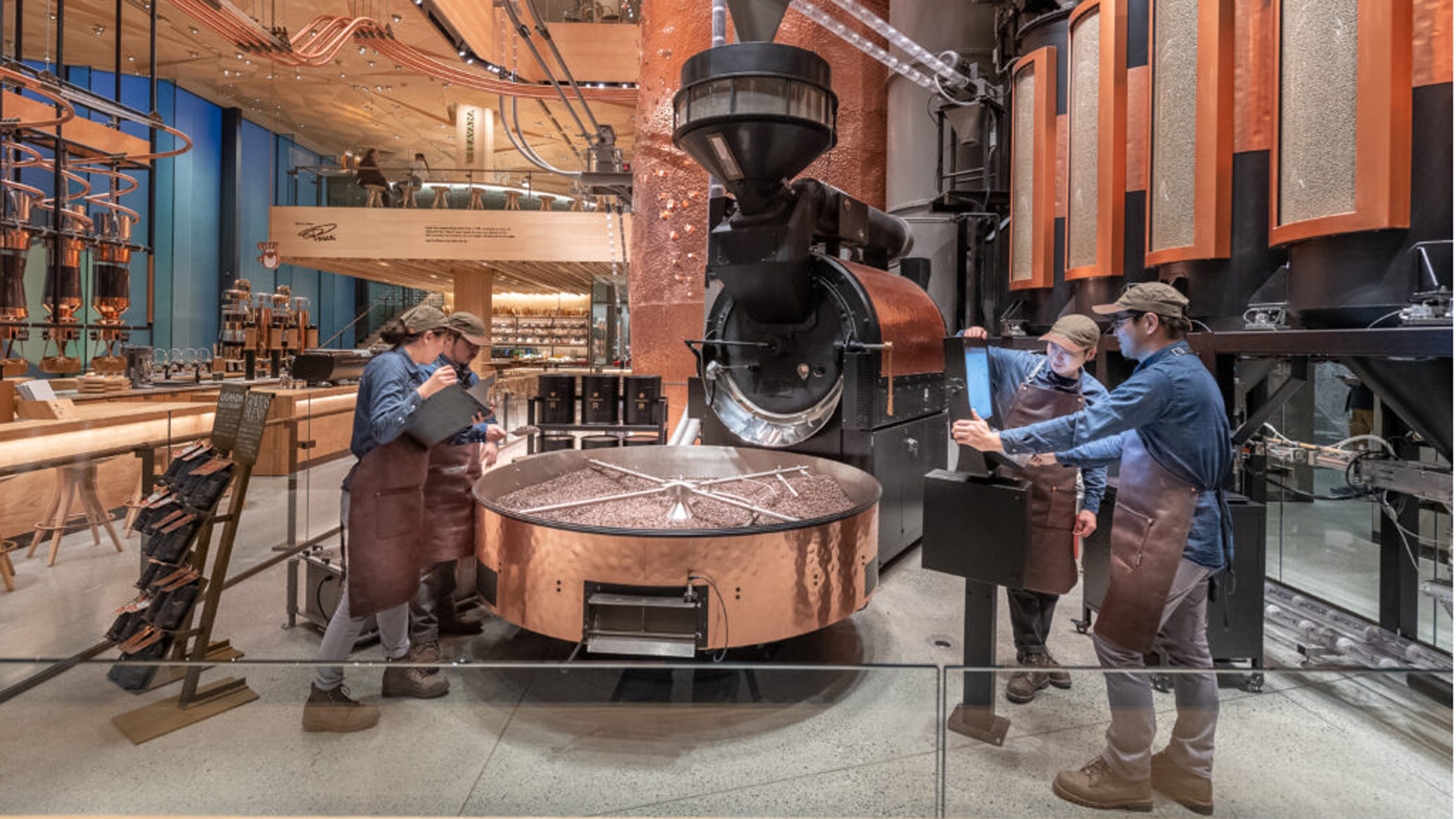 The world's biggest Starbucks store opened in Tokyo last February. For the first few weeks, the long queue took as long as five hours and you needed a ticket to get in. But now that the hype has hushed down a little, let's take a look inside the giant roastery.
Overlooking the Meguro River, the 32,000-foot roastery is located in Nakameguro, near Shibuya and Ebisu station. It's the fifth roastery opened by Starbucks, and it overtakes the one in Shanghai as the biggest. The three others are in Seattle, Milan, and New York.
The four-story roastery was designed by Architect Kengo Kuma, who was also responsible for the main host stadium for the 2020 Olympics. The building features the world's largest Teavana tea bar, a workshop space, and a beautiful origami ceiling. The 17-meter tall roasting machine on the fourth floor is also a hard miss. It starts from a large copper cask on the first floor and connected via overhead glass and copper tubes that snake through every floor.
The first floor is the main cafe, which also carries the Milanese bakery Princi. The artisanal pizzas, pastries and breads are baked on site with flour directly imported from Italy. The cafe is where you'll enjoy your own way of drinking coffee. The store menu offers more than a hundred things, 60 of which are unique to Japan. The most popular drink in the roastery is the Barrel-Aged Cold Brew that has a whiskey scent, while a must-try is the Americano con Crema, which has a cinnamon infused foam and a line of demerara sugar.
With Japan taking pride in serving tea, the third floor hosts the largest Teavana tea room which offers different Japanese tea as well as various Chinese and black tea from all over the world. A popular item is the Cream Soda Matcha that blends that tastes of vanilla, sparkling water and matcha.
On the third floor is the Arriviamo Cocktail Bar, which offers unique drinks all with a touch of coffee. Try the best-seller Nakameguro Espresso Martini which is made from chestnut liqueur that gives an additional sweet flavor. The top floor is the AMU Inspiration Lounge, which hosts barista trainings.
Photo credit: Starbucks Coffee Japan