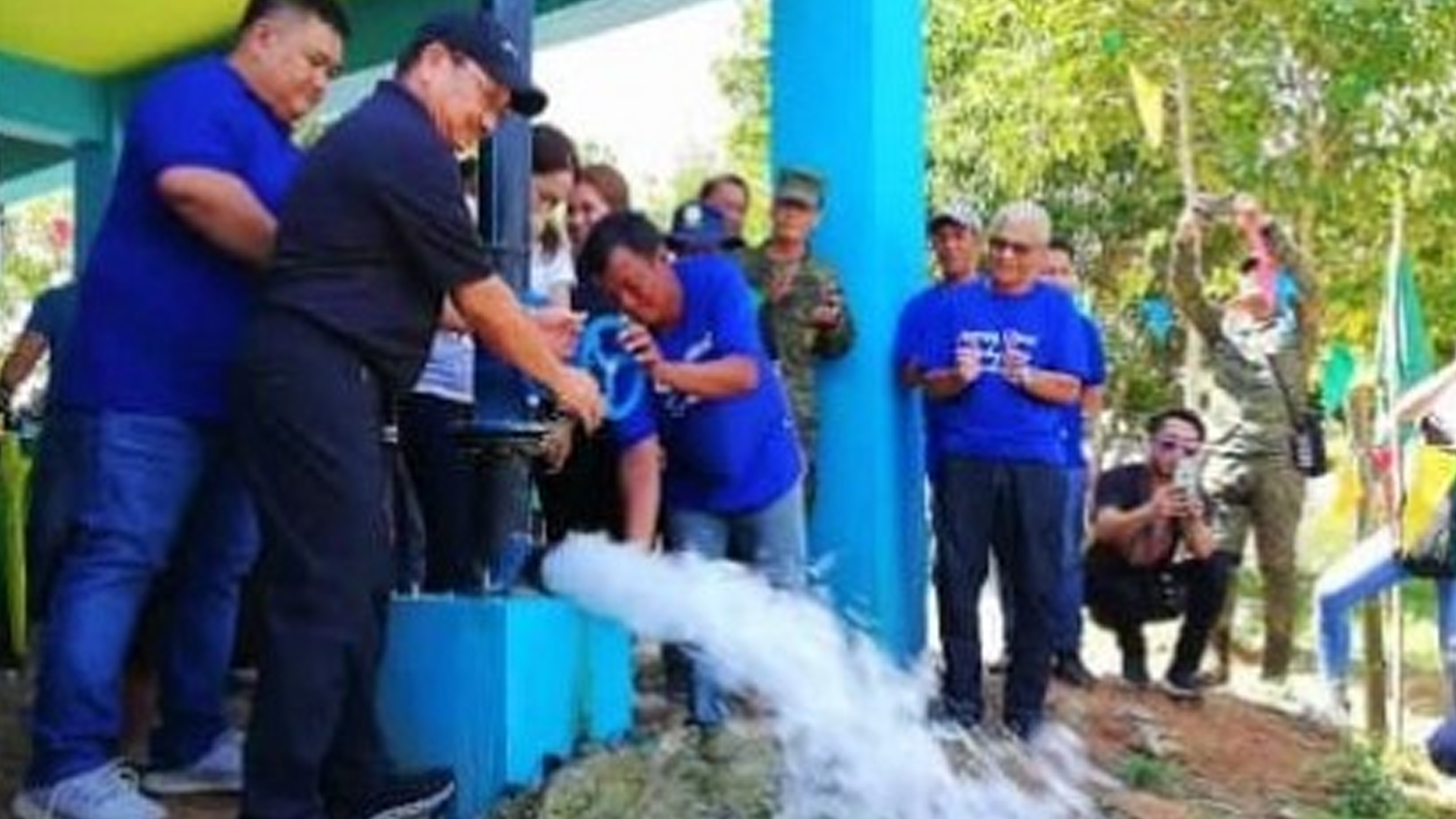 Department of Agriculture (DA) Secretary Emmanuel Piñol on Thursday formally turned over to farmer organization-beneficiaries in four Abra towns the solar-powered irrigation system (SPIS) designed to irrigate a minimum of 10,000 hectares of rice land per area.
The four SPIS is part of the six solar irrigation projects implemented by the DA in the Cordillera Administrative Region under the Regional Rice Program in Abra. There are two others underway – one each in the provinces of Ifugao and Mountain Province.
The SPIS, each amounting to PHP6 million, are located in the Abra towns of Tayum, Bucay, Danglas, and La Paz.
"There are three important things in agriculture — land, sun for photosynthesis, and water," Piñol said during the turn-over ceremonies here. He said in the absence of soil, hydroponics can be used. Sunlight can be substituted by artificial light.
"But I have yet to see agriculture without water, which is the most important of all," he added. "Kapag may tubig, wala tayong problema (if we have water, we do not have a problem)," Piñol said.
Piñol said the El Niño phenomenon affecting the country is not something that must worry the farmers.
He cited Israel's experience where a maximum of three rains occur in a year and in Southern California, which experiences drought, but are the top producers of agriculture products.
"It is because they have irrigation," Piñol said.
"Yung sinasabi nila na gamitin mo ang lakas ng kalaban para magtagumpay. Ang kalaban natin sa El Niño yung lakas ng araw — sa technology na ito, gagamitin natin ang araw para magkaroon tayo ng patubig para makapagtanim tayo (As they say, use the power of the enemy for you to succeed. Our 'enemy"' during El Niño is the heat of the sun. Our [solar] technology uses the heat of the sun for us to have irrigation and we can plant," Piñol said.
"Kung kailan mainit, mas maganda ito, mas malakas takbo ng bomba at mas malaki ang area na ma-cover (It is better when it is hot, the pumps will run better and can provide more water to a bigger area)," he said.
The capacity of the SPIS can be extended with the oversupply of water pumped from the river in low-lying areas to where the farms are.
"It only needs pipes to extend the area of coverage," he said, adding that the technology turned over today is already being used by many countries.
The Abot SPIS in Cabaruan, Danglas town has the potential to irrigate 17 hectares that will directly benefit 40 beneficiary-members of the Danglas Farmers Brotherhood Association.
The Bangbangcag SPIS in Bangbangcag, Bucay town was turned over to the Bangon Nagbalitangan farmers association with 23 direct beneficiaries. It has a potential irrigable area of 15.30 hectares.
The third site named San Vicente SPIS located at Bagalay in Tayum town has a potential irrigable area of 18.5 hectares.
The project was turned over to the Bagalay solar power irrigators association, which has 50 direct beneficiaries.
Turned over at this town was the Piddocol SPIS in Barangay Malabbaga which has a potential irrigable area of 41.6 hectares.
Piñol turned over the project here to Malabbaga La Paz farmers association, which has 60 direct beneficiaries.
The project is expected to increase the cropping intensity by 50 percent in the four towns, which are considered as rain-fed areas.
Since 2018, there have been 41 SPIS installed in the Cordillera with a total amount of PHP86 million. Until 2020, 17 more SPIS worth PHP99 million are expected to be made operational in the region.
Alfonso Tuazon, president of the Bagalay farmers association said that with the solar irrigation facility, they hope to increase their yield.
"Ngayon na may solar power na dito, 'yung mga kasama ko na magsasaka, sana ma-improve na produkto (Now that we have solar powered irrigation, we hope to improve production)," he said.
With the new technology, the once-a-year cropping is expected to be doubled. The project will benefit over a hundred families in the area.
Tuazon expressed gratitude for the government's support to the farmers.
"Malaking tulong sa amin at mga kasama ko ang solar irrigators. Sana hindi magsasawa na tumulong sa amin si Secretary (This is a big help to me and the farmers. We hope that the Secretary won't stop helping us)," Tuazon said.
Assuring Food Self-Sufficiency
According to the Food and Agriculture Organization, irrigation is a critical intervention that can improve yield, reduce vulnerability to changes in rainfall patterns and enable multiple cropping practices.
"There is a basic need for higher food production for an increasing world population and the lack of fresh water supplies due to the effect of climate change has brought major effects in the agriculture sector," Piñol said.
The DA is tasked to make food always available despite the occurrence of natural disasters and calamities such as El Niño, thus the department's effort to address the problem and attain rice self-sufficiency and food security in the country.
Through the initiative of Piñol, the DA is fast-tracking the installation of SPIS all over the country, which is popular and widely used in other countries. This is to respond to issues of lack of irrigation water produced using expensive diesel, gasoline and electricity
"The SPIS is now a flagship program of the DA for rice, corn, and vegetables," Piñol said.
The four SPIS were brought to Abra upon the request of the local officials who sought Piñol's help to irrigate the province's farms.
In 2018, Abra recorded 42,945 hectares of irrigated farmlands with 14,480 hectares being productive areas, yielding an average of 2.96 metric tons per hectare.
There are also 19,175 hectares of rain-fed areas that produce an average of 2.11 metric tons per hectare.
Piñol said that with the continuous water for irrigation, he expected the farmers to have three cropping seasons with an average of 6.5 metric tons per hectare of production.
Benefit Of SPIS
SPIS is an irrigation system powered by solar energy. It consists of one or more solar panel, pump, electronic controls or a controller device, storage device and conveyance structures. It is a solar-powered system that utilizes open water sources like lakes, rivers, streams and even creeks.
A solar-powered pump works like any other available and commonly used water pump. The only difference — sun rays fall on the solar photovoltaic modules and produces direct current.
Among the advantages of SPIS include non-use of fuel or electricity, it is not affected by power interruptions, it can be installed even in remote areas, easy to operate, does not emit greenhouse gases, suitable for remote watershed and rain-fed areas and can be used continuously for five to 10 hours. (PNA)