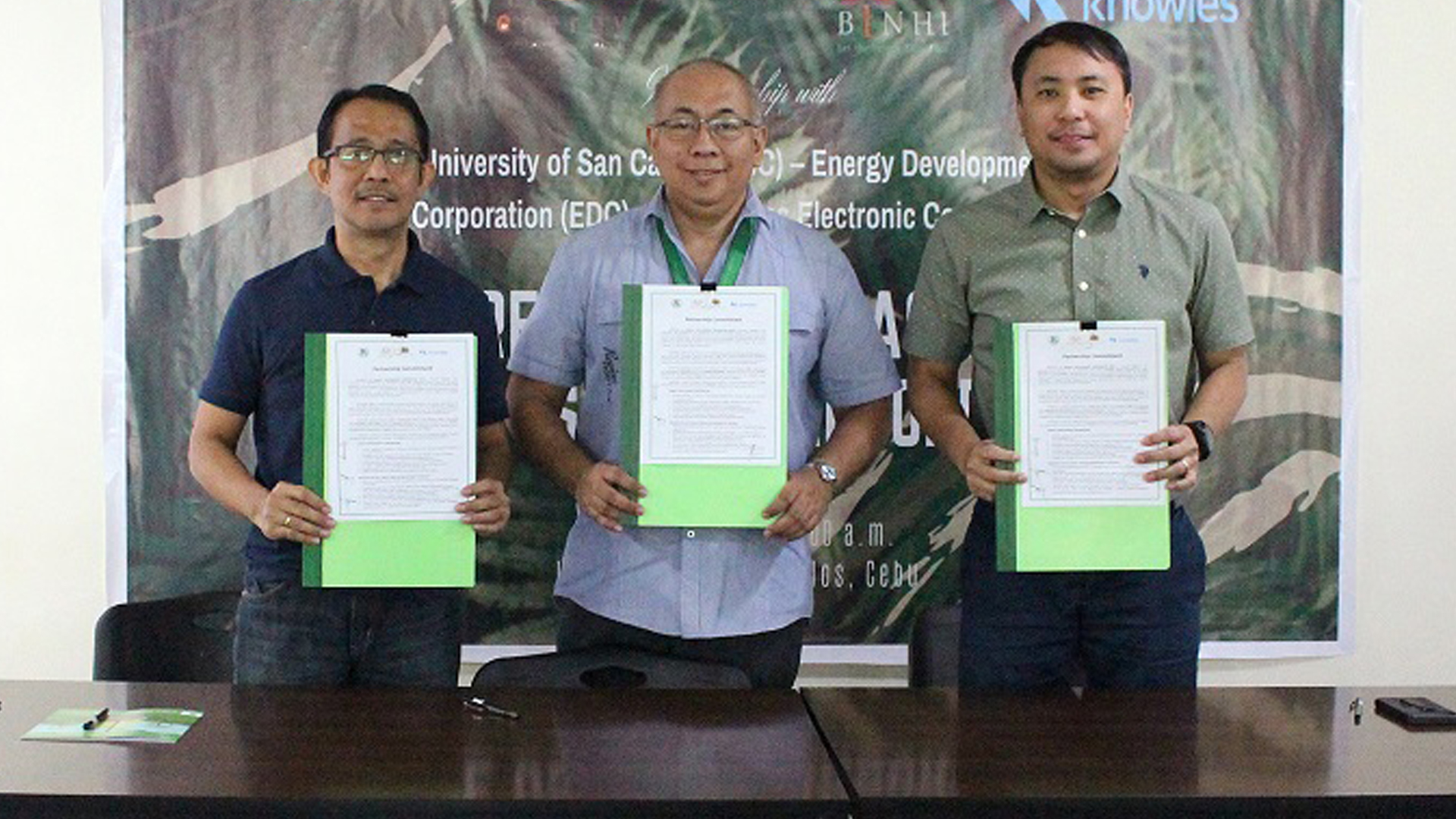 Premium Philippine native tree species, such as Narra, Mangkono and Molave will soon be grown and propagated in Cebu City, thanks to the BINHI arboretum that geothermal leader Energy Development Corporation (EDC) has recently inaugurated in the University of San Carlos (USC) campus in Talamban.
The arboretum was put up in partnership with USC and Knowles Electronics Corporation that have both committed to ensure the sustainability of this initiative in line with their dedication to environmental conservation.
BINHI is EDC's forest restoration and biodiversity preservation program that aims to save endangered premium Philippine timber tree species by planting their seedlings in school grounds, public parks, and other areas that provide a safe haven for the long-term survival of these future mother trees.
As part of the agreement, USC's campus in Talamban will host a permanent designated area for premium and threatened Philippine tree species, supported by planting and promotional activities as well as funding from Knowles.
EDC will provide the seedlings along with technical assistance for the protection and maintenance of the trees, including labeling and scientific monitoring. This is EDC's 11th arboretum since 2008.
"This partnership with the University of San Carlos and Knowles Electronics is another valued synergy adding to our long list of collaborations from various sectors of business and society under BINHI," said EDC corporate social responsibility (CSR) and public relations head Atty. Allan Barcena.
"We are heartened with these synergies because they are an important indicator of how involved and committed many Filipino stakeholders are in the quest toward sustainable progress, and how they share in our vision for a greener energy future," he added.
Cebu-based Knowles is the world's largest manufacturer of audio-processing, and precision device solutions. Its aim is to contribute to a better quality of life not only today but even for the future through its business and through its various CSR programs for the community and for the environment.
In his message at the recently concluded BINHI partnership signing ceremony, Knowles vice president and managing director Joseph Emmanuel Liwag said: "With each tree that is planted and grown, may we also sow seeds of inspiration with courage in the hearts of our youth so they may continue to uphold and foster our commitment to Mother Earth."
EDC is a global pioneer in geothermal energy and the country's largest renewable energy company, delivering 1,457.8MW of clean and renewable energy to the Philippines. It has been supplying clean, reliable geothermal energy to Cebu City and other parts of the country for almost 40 years.
As of 2018, EDC's BINHI has identified and rescued 96 species of prime and endangered Philippine hardwood. 175,685 seedlings have been raised in central and satellite nurseries, distributed and planted across 3,214 hectares with the help of its 173 partner organizations and 88 farmers associations.