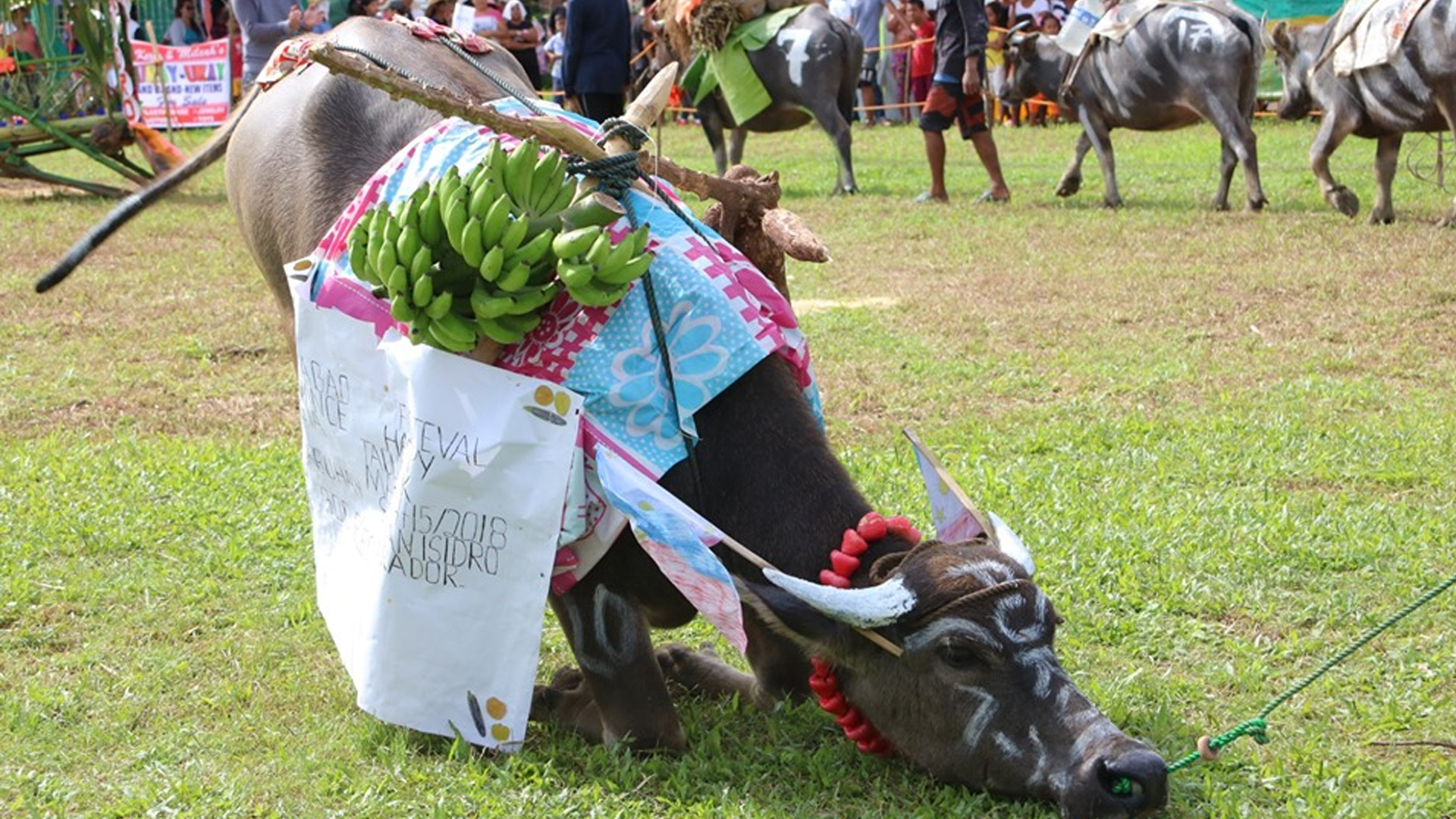 The local government unit has urged village officials to continue creating and showcasing festivals in their respective villages to educate the youth on their culture and tradition.
"Why do we create festivals? So that people will know where they are going by looking back in their history," Mayor Ramon Oñate said. "These festivals represent the people's way of life that is important because it gives them inspiration."
The local chief executive added that their goal in organizing festivals is to educate the youth in every village of their town to learn and respect their local traditions and culture.
On Sunday, Tabuno village held their 4th Carabao (water buffalo) Paluhod (kneeling) Festival, that pays tribute to their patron saint San Isidro Labrador and to carabaos – the indispensable partner of farmers in cultivating their land for rice farming and transporting their farm produce.
At least 14 carabaos and their respective owners participated in the festivity, where each are decorated with local farm produce, dressed in fancy outfit while others are painted.
Each carabao kneeled while passing in front of judges who selected the most visually appealing.
This year's winner is a carabao painted with a view of a farm, depicting settings of a simple life in rural communities.
Meanwhile, in the farming and fishing village of San Guillermo, residents held their Adlaw han Bakasi (day of bakasi) cooking festival on Monday.
Three groups competed, with each contestant presenting five different dishes of bakasi, the local term for tiger-reef eel, which is abundant in the sea water of San Guillermo village.
During peak season, a fisherman can catch up to 17 kilograms of eel using local fishing materials made of bamboo.
Among the dish cooked by participants are linarang (cooking method that uses souring agents), sisig (dish mixed with parts of pig head and chicken liver), spicy adobo (braised in vinegar, soy sauce, garlic, and onions), bicol express (cooked in coconut milk and chili peppers), fried and pinaputok (stuffed) na bakasi.
Palompon town administrator Raoul Bacalla sad that instead of naming the event as Bakasi Festival, they opted to call the festivity Adlaw han Bakasi to develop its own identity, away from the Dinagat-Bakasi Festival of Cordova, Cebu that is also popular for bakasi.
Bakasi had been in the limelight last week, after director Erik Matti slammed a show in Netflix for its "bad research" after featuring the eel in the episode of Street Food.
Vice Mayor Georgina Arevalo said that holding the bakasi cooking contest aims to elevate and make this exotic food popular to encourage more tourists visiting Palompon to try and taste the different dishes made from the eel.
"People should know that there are many ways of cooking bakasi and not only linarang. We should introduce more dishes made from bakasi so that people will become more aware and every time they visit Palompon, they asked for it to be served in their table," Arevalo added.
Palompon is known for Kalanggaman Island, a 750-meter long uninhabited island. It is a prime tourist destination in this town, popular for its long stretch of white sand and for its more than 700-meter long picturesque sandbar on the eastern side and the 250-meter long sandbar on the western part. (PNA)