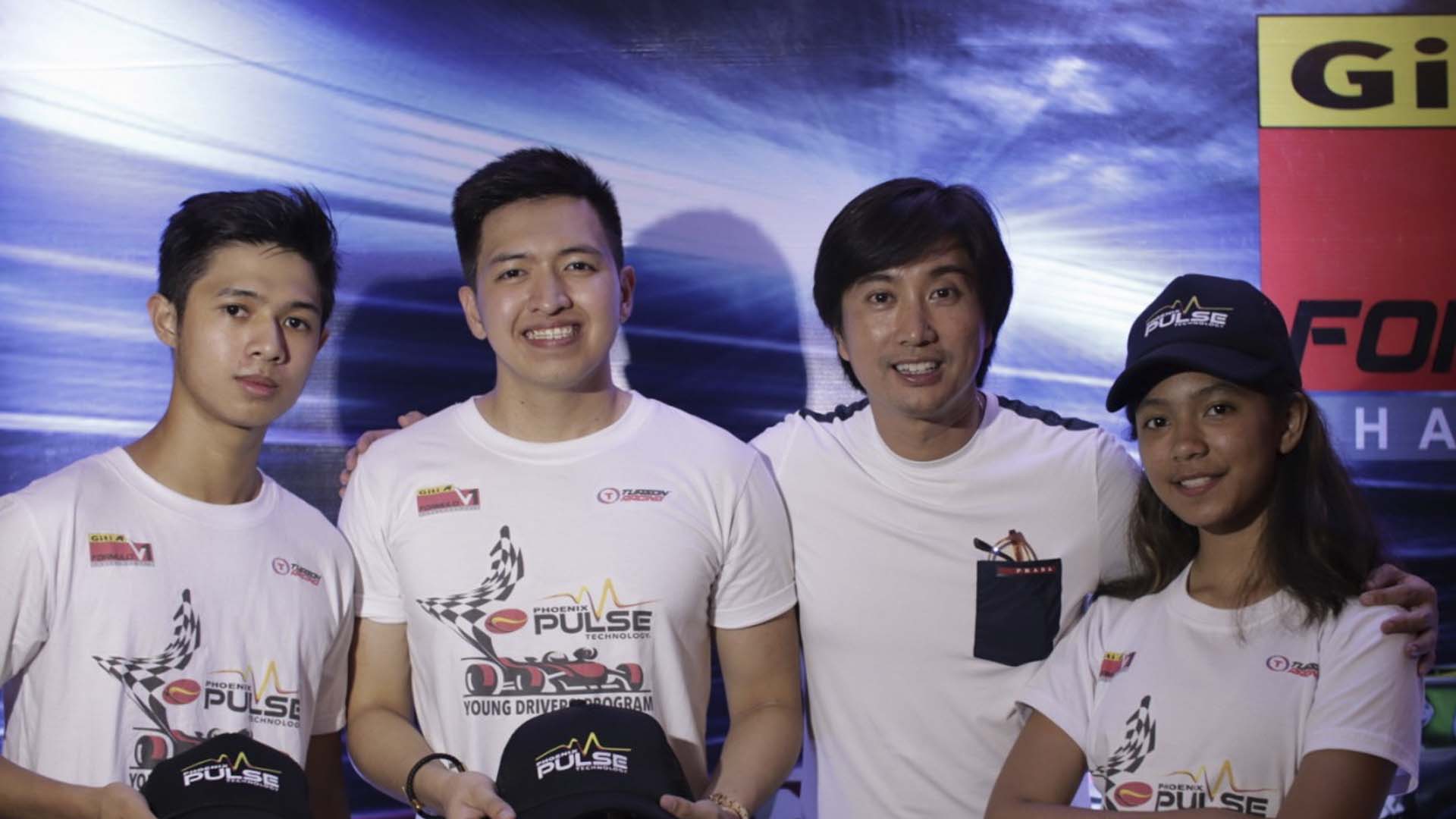 The Giti-Formula V1 challenge is in full swing, and while veterans like Gabby Dela Merced and Raymond Ronquillo are back on the tracks, young racers are firing up this season's Formula V1 Challenge with their energy and skill. Aside from fueling their need for speed, the race tracks of the Formula V1 Challenge lead to somewhere bigger—the opportunity to race in the international circuit.
For twenty-year-old Raffy Rabe, this dream just got closer to being a reality when he topped the Phoenix Young Drivers' Program, Phoenix Petroleum's search for the next generation of Filipino racing superstars. After a two-week selection period that tested the skills and personality of more than 300 young racers, the FlatOut Race Series and Togue Battle champion was chosen as the main driver of the Phoenix Formula V1 racing team.
Completing the trio of Phoenix's drivers are nineteen-year-old Patrichk dela Rosa and fifteen-year-old Tara Laconico. Dela Rosa bagged the GT200 title of the Yokohama Philippine Grand Touring Car Championships in 2017. Laconico, a rising star in the local karting scene, has raced in the Sodi World Series held in Venice last year. Both of them will be racing alongside Rabe at the four-hour endurance race scheduled in November at Clark, Pampanga.
Staying on top of the race
Though Rabe has aced previous races, there were moments during the Phoenix Young Drivers' Program when he felt like an underdog, especially since there were more seasoned drivers vying for the driver's seat of the Phoenix team.
"There were a lot who seemed better than me, and it never really crossed my mind that I'd be chosen as one of the three drivers for Phoenix," said Rabe.
For him, winning the Phoenix Young Drivers' Program came with a mindset that he's not racing to show off. He also emphasized the importance of listening to his instructors, especially when they tell him to start slow and build momentum as the race progresses.
"If you go blasting at your first lap, you'll make a lot of mistakes, you'll be more pressured in your second lap, and that's the only chance you'll be able to put in a good time," shared Rabe. "Unlike when you go slow in your first lap, you'll know how it will go. You'll be much more ready in your second lap when you're going slow in your first lap."
Pumping up the local racing scene
For Phoenix, developing the skills of young talents like Rabe, Dela Rosa, and Laconico is one way to support the local racing scene. Aside from the Phoenix Young Drivers' Program, Phoenix also supports the Formula V1 Challenge by providing the fuel of choice for the entire race.
This means that the entire Formula V1 Challenge is powered by Phoenix PULSE Technology, a fuel additive developed by world-class experts using cutting-edge fuel technology. Phoenix PULSE Technology allows fuel to circulate more smoothly and burn more efficiently in the engine, resulting in enhanced power and acceleration. This makes Phoenix PULSE Technology ideal for smoother and more pleasurable drives, both inside and outside the race tracks.
"We want to be holistic in our approach in supporting the local racing scene, where young talents are very much on the rise," said Phoenix Petroleum Assistant Vice President for Brand and Marketing Celina Matias. "As a partner of the Giti-Formula V1 Challenge, we are not only sending our team down the race tracks. Through Phoenix fuels with PULSE Technology, we are helping each racer achieve and deliver optimum driving performance."
The opening round of the Formula V1 took place in May at the Batangas Racing Circuit. The second and third rounds are slated on July 20 to 21 and October 19 to 20, respectively, at the Clark International Speedway. The endurance race is set on November 16. This year's Giti Formula V1 Challenge champion will head to the regional race on December 7 to 8 in Suzuka, Japan.